Salam Studio & Stores
Salam Stores is one of the GCC's leading fashion and lifestyle stores. Established in 1952 in Qatar, Salam has since, expanded its reach covering Dubai, Abu Dhabi, Al Ain, Muscat and Amman.
Salam Stores distinguishes itself as a leading retailer offering the latest in Luxury Designer Apparel, Fashion Brands, Perfumes, Photography Equipment, Home ware, Jewellery, and Accessories. Our chain of cutting-edge department stores carries fashion merchandise and lifestyle products for women, men and children.
Salam offers a unique and attractive retail environment with stand-alone shops established within and outside Salam Stores' outlets that represent leading international fashion brands, in a warm hospitable atmosphere to complement the timeless, quality, style and tradition that our customers expect from us.
As a leading market retailer with a distinct identity, Salam offers more than 300 of the world's top designer labels with some of them being represented at the afore-mentioned stand-alone stores. Salam has also launched a few concept stores, branded under their own umbrella.
In addition to the department stores owned by Salam, the company also has extensive distribution networks. In Qatar Salam Stores hold market leadership for certain distributorships with the world's leading brands, extending over decades.

Every shopper relishes a unique ambience of comfort and quiet efficiency, and within this atmosphere, the Salam experience is about truly satisfying the soul.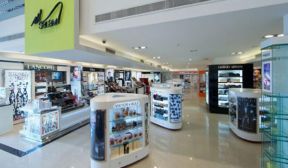 Salam Studio & Stores
63 Maysaloun Street 860
POBOX1 DOHA
Qatar
Openingstijden
Maandag

:

09:00 - 18:00

Dinsdag

:

09:00 - 18:00

Woensdag

:

09:00 - 18:00

Donderdag

:

09:00 - 18:00

Vrijdag

:

09:00 - 18:00

Zaterdag

:

09:00 - 17:00

Zondag

:

gesloten